Insights
My Life Mission v1.1:
"To achieve and maintain financial abundance so that I may provide for my family and all those whose lives I have an opportunity to touch. To fill my days, hours, minutes, and seconds with Love, Joy, Compassion, and Inspiration. To TRAVEL, EXPERIENCE, and LIVE LIFE AS IT IS MEANT TO BE… BOUNDLESS!"
—> edited 11/29/2017
My Life Mission v2.0:
"To put God first. To create a passion-life filled with Love, Adventure, Happiness, and Inspiration. To become the best version of myself each and every day and to make my family proud!"
Brief Bio:
As it states on my Facebook page, cause FB knows basically everything about me! I was born in Manila, Philippines on September 5, 1973. I lived in a few places as a child but I mostly remember living in Cristimar Village, Antipolo Rizal up to  7 years old. All I can remember is living in this big house (at least that's I thought at the time), and being watched over by my ya-ya (a Filipino term for Nanny) while my parents worked for most of the day and at every evening we we would always have dinner together. =)
In 1981 my parents migrated our entire family to San Leandro, CA. In the mid 80′s we moved to Union City and then after a few years we finally moved to the Hayward Hills where I lived for the majority of my teenage years.
For the first 10 years of our life in the U.S. my parents worked very hard to establish themselves and to build a solid foundation for me and my sisters.  My father taught me so much and he left me with love and passion for the game I still play today… For those of you who know me, it's obviously basketball.  I remember playing with him till 10 PM each night when I was young.
Our biggest accomplishment together was when he helped us build an official half court in our backyard, from the ground up, equipped with night lights.  He would have my younger sisters and I mix the concrete in a big wooden container which he made. Then we would shovel the wet concrete into buckets and I would have to carry and pour it into the framed casing my dad prepared to build each section of the court.  After 2-3 months later memorized the completion of the court by placing our hand prints on the freethrow line to help us remember what we built together.
It was then that I also met me oldest and best friend till this day and we fondly share these times as with each other.  It taught me to so much about work hard and persistence.  It also taught me to never give up on my dreams.  I didn't know then how much that experience would impact my life today.  Thanks Dad…
Sadly, a few years later my father was diagnosed with cancer.  I was a senior in High School when he passed away. It was October 23, 1991, I was 18. Up until then my life was pretty simple…
Over the next 8 years I would make a lot of choices and experience many things. =) Some I would never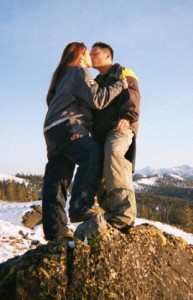 want to go through again yet, no matter what, it's those very experiences that has molded my character and prepared me for my greatest achievement yet.
In 1999, I met the love of my life, Angelica. She was the angel and answer to my prayers. God blessed me with her love and 9 months later I asked her to marry me. Luckily she said, "YES!"
On September 17th, 2000, Angelica and I were married along with 20 groomsmen and 20 bridesmaids and over 400 friends and family! Yep! I said 400! Needless to say, I cried at my own wedding! That's all I will say about that… =)
Life was a whirlwind of ups and downs, mostly up, as we learned that love is what gets us started but it's communication, respect and understanding that will get us through tough times.  For the next year we challenged each others beliefs and compromised to create our own.  We lived for the highs and worked through the lows…  Then right when we finally started to get the hang of it…  God in his wonderful ways gave us a new adventure and provided us with yet another opportunity to grow…
On October 19, 2002, after two wonderful years as a newly married couple, we were blessed again with the birth of our first daughter Isabella Guintu Engalla. LOVE was redefined as I held my first born. I cried, again…
I still remember holding my first baby girl, I knew then how precious a gift she truly was.  Bella introduced to me a new type of love, one you might only read about in books or through scriptures. I mean, I knew I loved my wife, Angelica, but this LOVE was not like any love I had ever experienced before.  It was a love that would assure her that I would never let anything happen to her.  That I would protect and watch over her until the end of my days.  A love, that reminded me of God because of Jesus his Son.  A love only a parent could have for his child…
Bella was the sweetest child.  She had such a big little face and big round eyes. Bella's hair was short and fine and her skin was light and had nearly no other body hair other than on her head.  The way she cried, so soft and cute, you couldn't help "aaww'ing" when you heard her whimper when she was hungry. When she laughed and smiled it was adorable and inviting.  I loved her falling asleep on my chest as we kicked back on the sofa watching a movie.  Life was good…
If you noticed Angelica in the picture above, you would definitely agree that something is brewing in the oven.  On November 11, 2003, and yes… I know what your thinking… 😉 Our second gift from God arrived, Angelina Guintu Engalla… Born 13 months apart it was almost like having twins.  What can I say? I'm efficient!
Angelina was the total opposite from her sister Isabella.  She made her marked into the world by belting out the loudest cry I would have ever imagined would come out of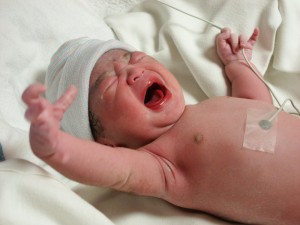 her precious little mouth.  It was a moment I would never forget.  I knew then that this girl was filled with determination and a strong will. Needless to say, I've been right so far.
Growing up as the little sister, Angelina was definitely a "Mommy's Girl".  Unlike Bella who loved to be with everyone, just like her Dad when he was young, Angelina set some clear rules of engagement from the start.  It was simple, if you weren't Mommy, you cannot hold her, touch her or play with her.  It was either Mommy or Mommy, no exceptions.
I still remember it being nearly 6 months before she would let Daddy hold her and play with her.
Unlike Bella, Gigi as Bella nicknamed her, was a darker complexion and had thick black hair.  I mean she had hair everywhere.  Angelica would always say to me that Gigi was a real Guintu baby.  As for me it was such a joy to have two so different looking girls as my daughters, it gave each of them their own identity and uniqueness. The attention was also split pretty evenly with the relatives without leaving the second or first child feeling left out or ignored.  It was the perfect mix.  First child was a clone from my side of the family, the second child a clone from Angelica's side of the family.  We got the best of both families, what else could we ever ask for???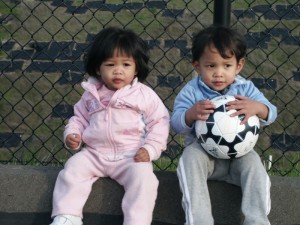 For the next few years we enjoyed raising our two beautiful daughters! We moved from our small condo in Fremont to a single-family home in San Ramon.  It was a wonderful place to raise a young family.  We frequently visited the awesome parks and playgrounds whenever we had the chance.  Staying active with our little ones was very important to Angelica and I.
As you can see, they were so different and so fun to watch grow up. We promised to always make it a point to enjoy these moments… This was also the time I began my hobby in photography.  The minute I purchased my first Digital SLR I fell in love with the kinds of pictures I was able to capture and never looked back.  Something I obviously took from my dad because he always had a camera with him where ever we went when I was growing up.  He was the video or camera guy.  Sadly, since he was usually the guy behind the camera he was rarely in any photos… I miss him…
There is nothing like the love of your daughters… So precious and they will always be my little princesses.  I thank God each day for them.
BUT… being that I was the only boy in my family… I was determined to have a BOY of my own, so we decided to try again! Actually I told Angelica, that even if we had 9 girls I would try a tenth time for a boy… =)
With a leap of faith she agreed to try again… I love her so much for that.  Fear, I suppose, of trying 10 times she read as many books as she could to like "How to Determine the Sex of Your Baby…"  and studied Chinese Calendars and Zodiac Charts… She was determined to get our boy on the next try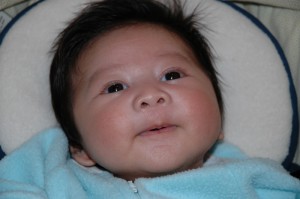 …
And on Feb. 1st, 2006, Jonathan Wilfredo Engalla was born… We call him Wil… His legacy lives on…
To be blessed with a son was something I only dreamed of… Thank you God for my boy!
Wil is the the family's baby and the perfect "combo plate" between the Engalla and Guintu Family.  He has the thick hair, with a big round face and big eyes.  Watching this boy grow is like watching myself growing up.  The way he thinks and acts, my mom says, is so similar to the way I used to be growing up.  He was the largest of our kids at birth, nearly 10lbs!  Angelica is truly a superwoman.
I guess research mixed with prayers does result in miracles.  The Engalla clan is now complete with the 5 of us.  Watching our kids grow up and teaching them lessons they will carry with them the rest of their lives is now our biggest obligation.  Each day we strive to learn to be better parents to our kids and a shining example of how a family should love each other and how a marriage between a man and wife should be.
As of October 2010, Isabella is now 8, Angelina 7, and Wil is 4… Angelica and I have been happily married for 10 years this past September…
We are fortunate to have family, friends, and colleagues who care and love us. God has blessed us with so many gifts and we are always eternally grateful. We also know that God has taught us to go for LIFE and make it the BIGGEST and BEST we can…
Angelica and I LIVE for our children and we will do everything and anything to provide them the best life we can possibly offer…
I believe that my life is just beginning at 37 and I am optimistic at the opportunities the future holds.
This is just the beginning….
Life without experiences is life not lived. Whether or not the decisions I made would be considered failures it is those very experiences that makes me who I am today.<—— July 2010
Updated December 2010 ——>Wow! It's only been 5 months since this entry and HOW MUCH HAS CHANGED!
First of all, I want to look back at the last 12 years with regards to my personal and professional growth… After meeting Angelica every aspect of life really took off. I spent time in the IT field, starting as a Network Engineer and ending my run as an Internet Security Professional. Throughout this time I developed a love for the internet and website design. I remember teaching myself how to build and create website in the wee hours of the night working the graveyard shift at Exodus Communications. I spent hundreds of hours researching, learning and testing this new technology… I was intrigue with the whole concept of websites and owning my own domain and publishing pages for my friends and family to view and see.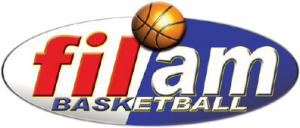 My first website was FilAmBasketball.com. It was just a hobby at the time. I offered to create an online website to post schedules and scores of previous and future games for all teams, coaches, fans and league commissioners to view and utilize. The site grew in popularity very quickly. It soon evolved into more than just a site for scheduling but a site for updates, photos and articles of up and coming players and teams as well as future tournaments and leagues. The community grew to nearly 2000 members in 2001-2002. Unfortunately the mere cost to maintain and upkeep the site was more than I could handle and the site popularity began to diminish in early 2003. My attempts to gain funding from the community failed and eventually FilAmBasketball.com slowly faded away.
My second site was created around early 2000: Engalla.com… A purchased this domain specifically to develop our wedding website. It was small and personal. However, this is now the site you now see today.
After my run in the IT field I moved to sharpen my skills in sales and marketing. Although always finding my way back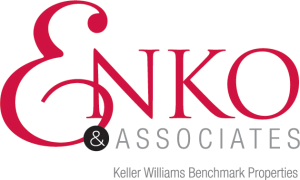 towards technology I pushed forward and acquired my California Real Estate license. From 2003 – 2007 I developed my natural sales skills and became a top real estate agent and Team Leader for Enko & Associates at Keller Williams Realty. For 3 years from 2004-2007 we were recognized as a top producing team for the Northern California Region with over 3000+ agents.
In 2007, I stepped away from active selling and stepped up as the Team Leader for Keller Williams Benchmark Properties in Fremont, CA. This was the time in which I experienced personal growth the most. The leadership and business training that Keller Williams provided their leadership is the industries finest. I spent 3 wonderful years as a student of the models and systems that make Keller Williams Realty the #1 company to work with.
From the basic principals of communication to the detailed business models that make KW a success nationally, I took it all in and learned as much as I could slam into my tiny brain!
WHEN LIFE TAKES A TURN… CHOICES MUST BE MADE…
In August of 2010 I took a short 2 week trip to the Philippines with my family. Long story short, at the end of my trip I was proposed an opportunity to launch an internet and web development company. The catch was its headquarters will be in Global City, Taguig, Philippines. Which is one of the fastest growing areas in Metro Manila. I was not ignorant to the fact that Asia presents some amazing opportunities and the Philippines is directly in the heart of it. Not only would I be able to own and run my own company, it would be back to what I am most passionate about — Web Technologies!
So… decisions had to be made. Do I stay with great company (Keller Williams) leading wonderful and talented individuals or do I leave for a once-in-a-life-time opportunity to a country I have not been to for 30 years to lead my own company and develop my own talent …? hmmm?
Needless to say I took the leap… With the support of Angelica and my family, in less than 20 days we coordinated a move across the globe and moved our family to the Philippines!!!
OMG!
Now I'm here… Working harder and longer hours to build a legacy and company that will make my mentors and teachers proud!!!
Stay tuned for the future… =) It is BRIGHT… It is UNLIMITED!
Updated October 2011 —>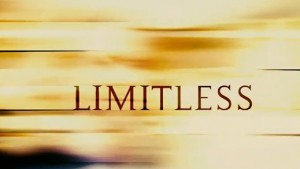 Have you seen the movie Limitless? Although I wrote my Life's Mission long before this movie was ever filmed I found myself intrigue with the movie's concept.  How the human mind is so untapped and underutilized.  How without an unconventional push or an out-of-box experience we may never break out and experience life in ways we can only imagine. Interestingly enough it's also a common theme I witness each day as I live my adventures here in the Philippines.