Volcanic Weekend Adventure – Part 2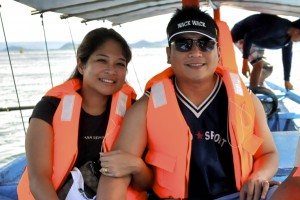 Part 2 of our Volcanic Weekend takes us to Tagaytay, where we decide to climb 2,500 ft above sea level only to trek right back down the back side of the mountain to Batangas. We were headed to Taal Island to see the Taal Volcano Crater.
We left the house around 10 AM and made our first stop at Bag of Beans for brunch. We shared 3 dishes (these Filipino serving sizes are still too small for us) hehehe!
I had the the sausage omelet, Angelica had the beef and mushroom pie, and we also shared a kid's grilled cheese sandwich with fries. The omelet was decent but the portion was tiny. Angelica's beef pie was also tiny and I would have enjoyed it more if the crust wasn't so soft. (They call it crust for a reason) The grilled cheese sandwich was also on the softer side. I like my grill cheese sandwich to crunch when I take a bite out of it. =) The surprising thing was the 8-10 pieces of french fries, more like tiny potato wedges, that came with the sandwich. Next time I'd be willing to just order that by itself. It was REALLY good! So good I didn't even have the time to think about taking a photo of it.
I also ordered the p110 cup of coffee (with unlimited refills). It was good but I personally tasted better. Actually the Batangas coffee from Hidden Valley Springs still tops this one. After dinner we met up with our guide who we met outside of the restaurant before walking in. The rates were decent for the tour to Taal Island. Here's the deal we were able to negotiate.
Taal Tour Included:
Boat ride from resort to the island (round-trip) – P1,500 (we could fit up to 6 people. All we had was me, Angelica, our driver Danny and Soxy)
Horseback ride with guide per rider – p500 for the horse and p500 for the guide (p2000 for 2 horses with guide)
Guide from Resort to Taal Island and Back – p500
Total damage was: p4000 (all inclusive – tips included) * we also opted to pay after the tour was completed. So no money was exchanged until we completed our tour. That was cool.
After business was negotiated it was time to begin our tour. We drove down the back of the mountain to the Batangas side, it took about 25 minutes of switch-backs all the way down the mountain to get back to the base of where the resort was. Again there wasn't many people and we were able to take our time and decide when to take the 25 minute ride to Taal Island. The boats (Bangkas) were all lined up at the shore.
Batangas shore facing Taal Island Volcano:
Our Day 2 Adventure Begins
We were required to wear these life jackets. Unfortunately, my wouldn't zip up. It was too small but I managed to get it on anyway. My brother-in-law would have to wear two, one on each arm. =)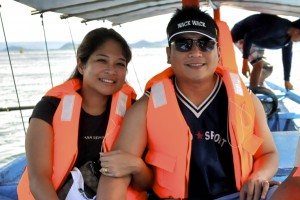 Soxy was experiencing all sorts of "First times". She was a little scared at the beginning but soon started to relax. Hoping her early experience of this will help her become a well-balanced dog.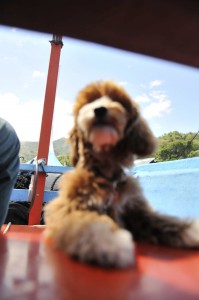 View from Taal Island of Tagaytay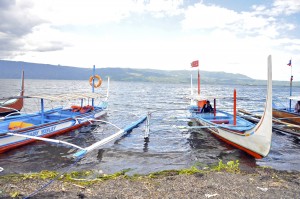 Entering the tour area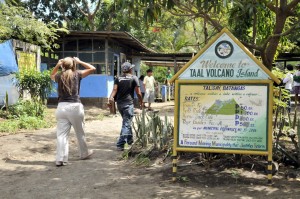 Time to giddy-up and trek up the crater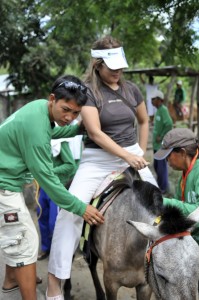 These were the biggest horses they had. Poor things could barely hold me up!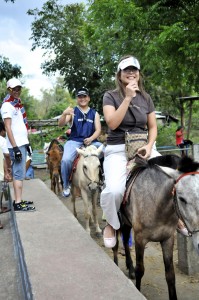 This is the face of an angry and pissed off horse!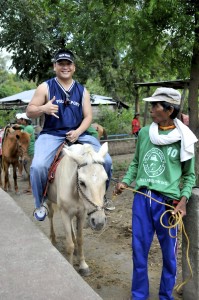 One of the many steep inclines up to the crater. My horse was always 50-100 feet behind. I felt bad and almost wanted to hop off and walk myself. If you've seen the movie the War Horse I didn't want my horse to go through that. Needless to say I still stayed on the horse… -_-
There was a short path where the trail flattened and I was able to take a few shots of what I thought, from Tagaytay's view point, was the Taal crater. Little did I know that the Taal Volcano has actually 47 craters and the one pictured here is not the main one!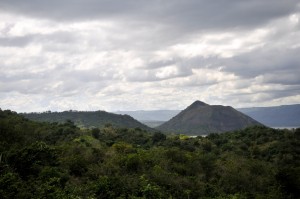 This small island crater is not actually accessible to the public. The larger crater was on the back side of the island and not clearly seen from the Tagaytay side.
A friend I met along the way up to the crater.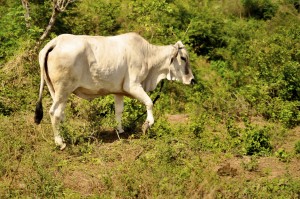 At the top of the crater we were escorted off our horses. Immediately the staff there asks if we wanted to buy our guides water or something to drink. The cost p50 each~ I know that we can buy the same water for p20 down the mountain.Even still I agreed to buy although I never saw my guides actually drink their water. I figured they shared the money and it was their way to earn a little extra. My advise is to just be aware, in the end it's only p50. Next time I will just bring 2 bottled waters for our guides and I will personally give it to them. =)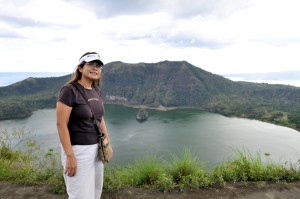 When we finally reached the top it was a sight to see. The inside of the crater was filled with water. I was told that back in 2008 they used to let people swim in the pool below. Something happened and they no longer allow people down there. That would have been a cool thing to experience for sure…
The weather was also very kind, not too hot, and we actually enjoyed a nice warm tropical breeze.
Yes, we are crater lovers.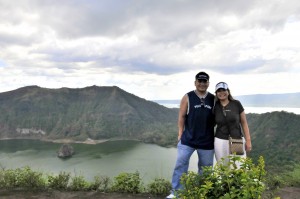 More awesome shots of this semi-active volcano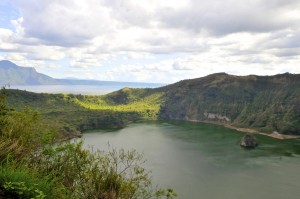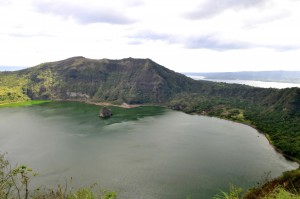 As you can see if you look closely, the ground it smoking. We saw many of these patches of smoke rising from the ground. A little scary knowing that the ground below us could blow at any time… At least that's what I thought!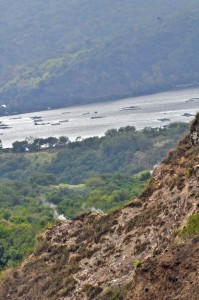 When I saw the smoke from my camera I took the shot above. I noticed people on the other side of the crater. I had the sudden urge to go there to get a closer look. So I asked Angelica if she would take shots of me when I reached the craters edge on the other side of the mountain. So off I went!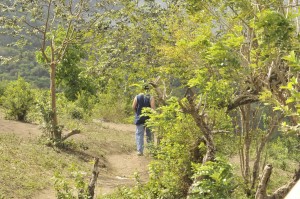 This shot was taken several on my way up the other side of the crater. You can see me mid-way up the trail right after the cluster of people at the base. In the background is Tagaytay.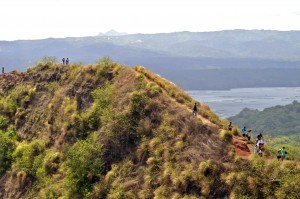 This is the first ledge on the other side. There is a straight drop of several hundred feet to the rocks and water below. One slip would mean certain death, unless I grew wings on the way down. You can see how cautiously I moved forward.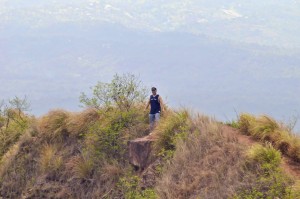 Here I was able to stand at the very edge of the craters crust. You can see smoke coming from the ground right below me.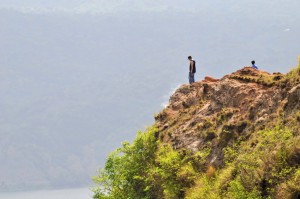 Angelica took this was a great shot showing how high and how huge this crater was.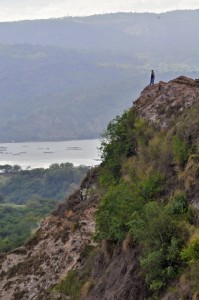 In the background you can see in the water lots of fish pens. This is where they farm Tilapia and Bangus.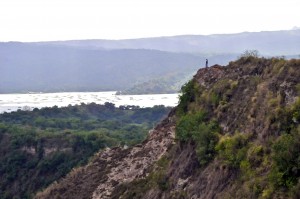 I opted for my hands up in the air rather than my signature "Michael Jordan" jump. I'm not as "crazy" as I was before. (Ok! I'm chicken)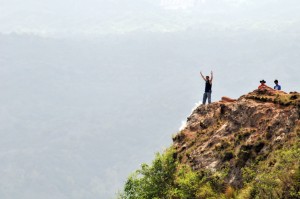 Heading back from my walk on the edge~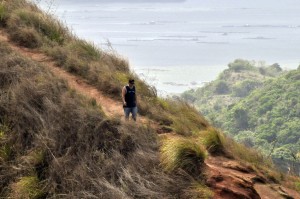 Happy to still be alive!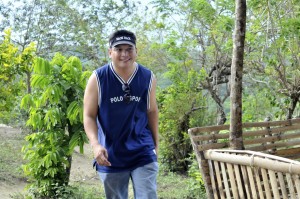 Fresh buko juice as my reward! Thanks babe!
Another little friend we met at the crater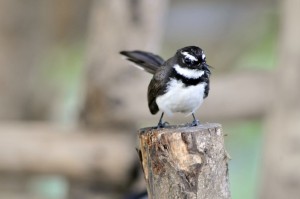 Angelica read all sorts of reviews about this place so we made the extra effort to end our day here. The place was packed with so many people. I did not know what to expect. I thought it would be a beef hamburger with lots of mushrooms on top. To my surprise it was actually mushrooms, meaning made of mushroom~ It wasn't my favorite to say the least. –> I still ate it though. At least we can say we've been there!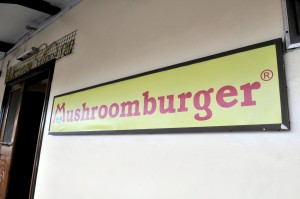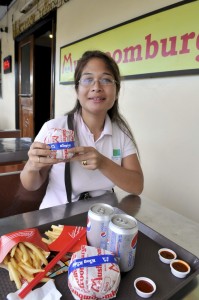 So there you have it. This marked the end of our Volcanic Adventure. Next stop for Angelica is Singapore and for me Malaysia. We miss our lovely kids every single minute! I know they will be reading these posts. Mommy and Daddy are planning for your return and don't worry, we will have a blast when you get back! Be good and we'll see you soon!
Till our next adventure…