No Time to Blow the Candle Out… But Don't Forget to Make a Wish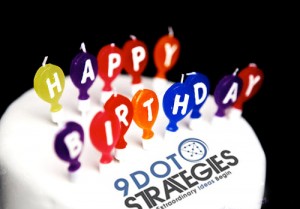 Well… I can't hardly believe it!  It's been over a year since we launched 9Dot Strategies.  14 months to be exact! I read my post last January 2011 and relived the excitement of opening our office in Global City, Taguig.  We opened with 8 employees in a 130 sqm office space.  We were embarking on a new venture and had dreams of building a successful company in a country I hadn't lived in for over 30 years!  The future was ours!
It wasn't very long before I was hit with the realization that business in the Philippines is nothing like I had ever experienced before.  My business training and experience over the years has helped, but nothing could truly prepare me for this — other than witnessing it hands-on. I was under the impression that because I was Filipino and spoke the language, somewhat, I would adjust and adapt fairly quickly.  In the end,  I was still VERY "American" and raised with Western ideals and beliefs.
The "Unlearning" Process:
If someone just told me that business in the Philippines was different, I would agree for obvious reasons – Cultural differences and language barriers. The "not-so-obvious " reasons are how it is different and why it is different.  I don't want to go into an entire discussion over social theories of colonization and how this affects our thinking process but one thing is for sure… the affects run DEEP.
So in order to survive this transition I needed to integrate and adapt.  It was not easy.  The only way I could maintain a mindset of positivity, leadership and self-confidence is to require a daily dose from my various mentors. (Tony Robbins, Zig Ziggler, Timothy Ferris, Steve Jobs,  Joel Olsteen, the cast from The Secret and most of all GOD).  Yes, prayer is a BIG part of how I survived my first year in the Philippines.
I hungered for the times where I could hold leadership training sessions or a short empowering discussion with my team, cuz it filled my bucket.  It helped me, especially when I lacked energy and motivation.  I learned, however, that in the presence of the unprepared, these dialogs could lead to self-sabotage.  Meaning that not everyone is ready for that type of mindset and to try and undue or reverse hundreds of years of programming over a 30-45 minute discussion could cause a lot of confusion.  I guess what I'm saying is I didn't necessarily unlearn what I knew, I just realized that in order to implement what I wanted I had to commit to another path to get there.  That it might not be as quick or as efficient.  Actually, more often than not it took longer and wasted a lot of time.  But if we are still able to achieve the desired results then we are still moving forward.  Accepting that there is another way to get to my result was the biggest lesson I learned this past year.
State of 9Dot:
Simply put… Expand, Retract, Re-group, Re-strategize, Re-launch.  We have expanded out of our original office space and have moved to Makati in a space nearly double the first office.  We stayed for 3 months and now plan to move to an office 3x times the size this April. Here's a snapshot of what 2011 looked like for 9Dot:
March 2011 – Launched www.citypoynt.com
June 2011 – Launched www.whywelovemanila.com
September 2011 – Launched Local Web Development Services (Philippines)
December 2011 – Launched www.dealuxuries.com
Kick-off to 2012:
January 2012 – Moved out of Global City, Taguig and transferred to Makati City
March 2012 – Partnered with RCBC as an Independent Sales Organization (ISO) and e-Commerce Provider
Our company direction has shifted more towards supporting e-commerce and payment processing solutions.  Our unique skillset and new capacity through our RCBC partnership opens 2012 to new possibilities.  It's exciting to see how we have evolved and remained agile as we find our place in this Industry.
So… It may be late but Happy Belated Birthday 9Dot Strategies.  It's been quite a first year.
For 2012, it will be the year we make our stand and find our place among the industry leaders.